Decades ago, when I was a relative sewing novice, I was much more adventurous with my sewing.
Slapdash Pattern Happy!
I thought nothing of my poor techniques, and happily dabbled with making my own patterns. Like this dress…
Apology for the blurry photos. My Mom wasn't exactly ace with the camera and this was in the days before digital cameras. So you had to wait for the films to be developed to find out that you got some dud photos!
Note the stiff exposed back zipper. The collar probably wasn't properly interfaced either. But it was my own design, probably inspired by some magazine photos. And then there's this one…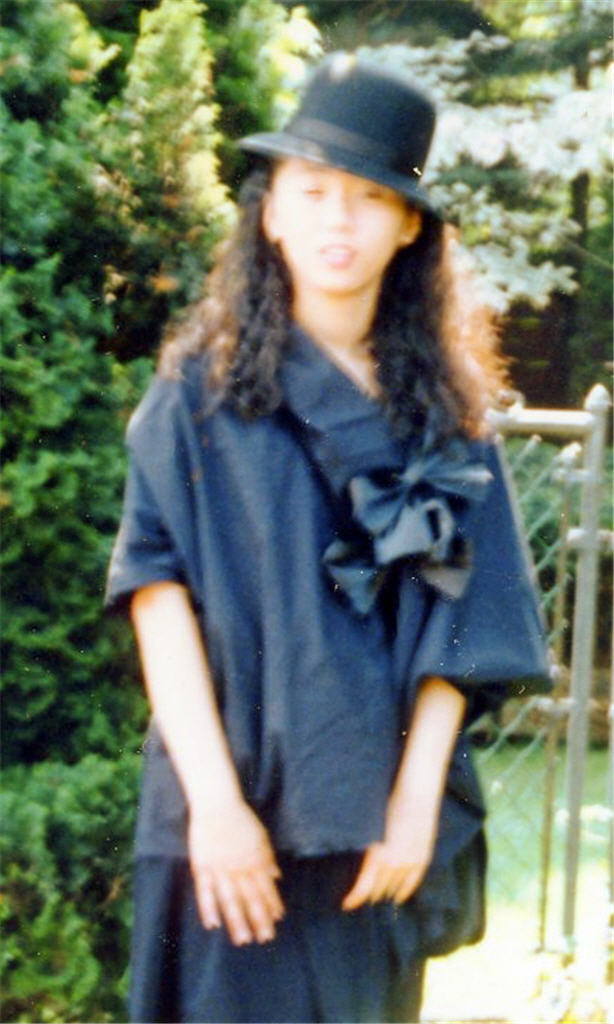 What was I thinking of? LOL. My head was in the cloud back then. I don't even remember making this one. (You know I must love you to share such unflattering photos of myself with you! 😉
Designer Love Love Love!!
Many were the attempts at copying designer clothing I liked but couldn't afford. There was the Romeo Gigli coat wannabe I wrote about a while back. But my main love back then was the Japanese design house COMME des GARÇONS.
Here's an example, modeled after a skirt from COMME des GARÇONS Spring Summer 1988 collection…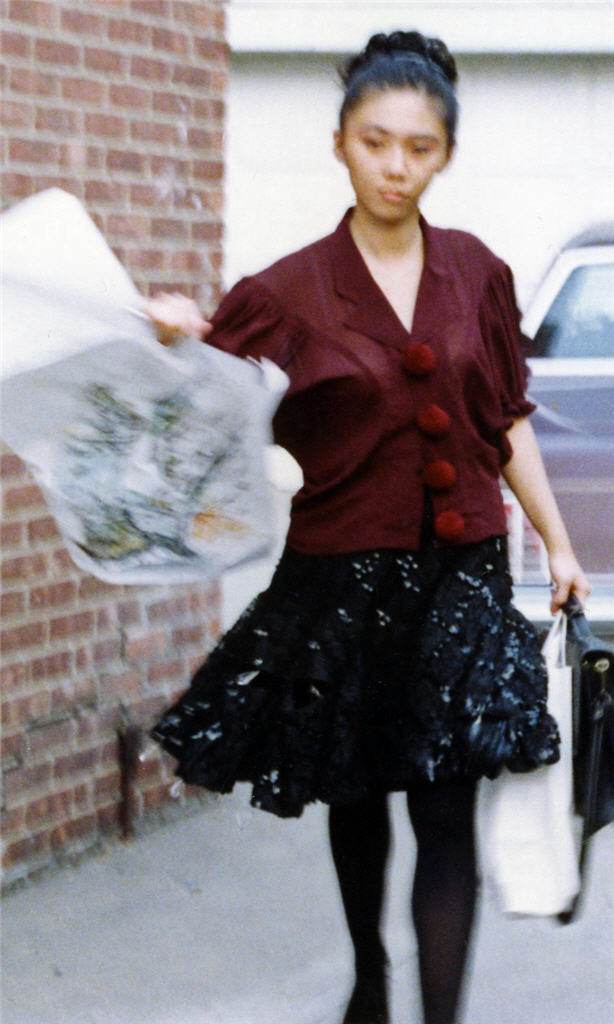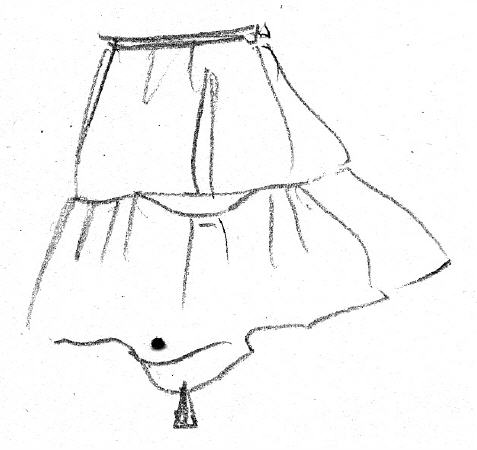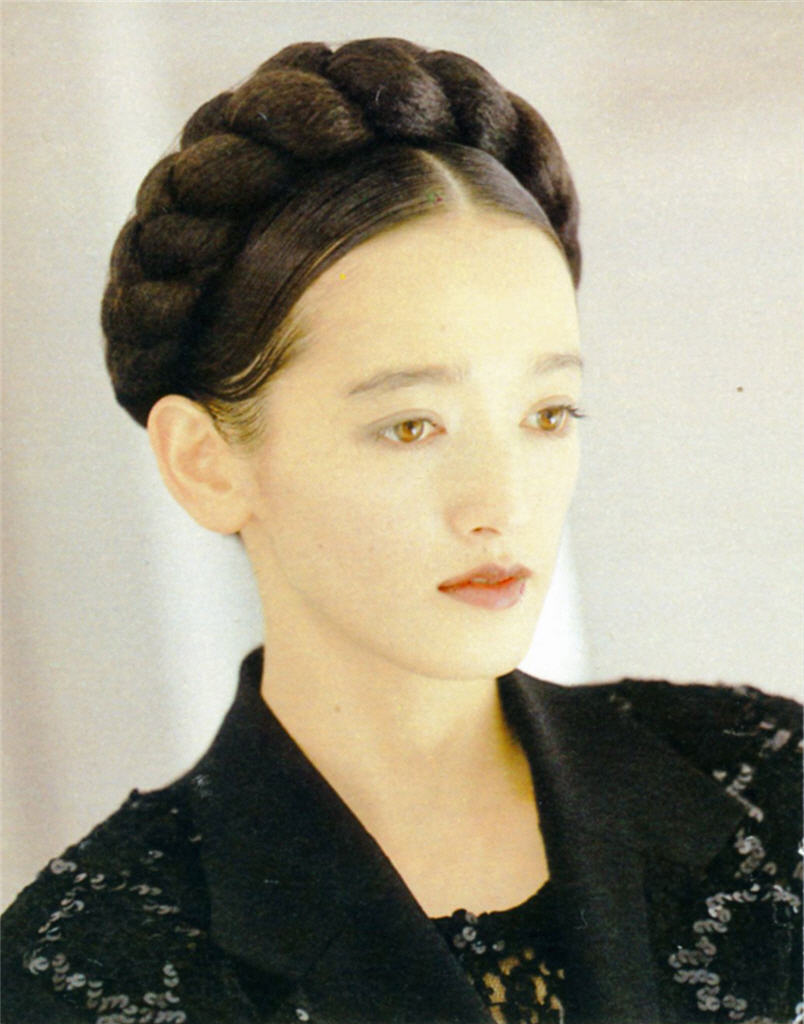 With the twinkly sequins and sparkling tear drop crystals, the lace skirt was like the widowed Scarlett O'Hara on a crisp rainy day. Rain in its romantic glory of course, not London gloomy.
And another inspired by COMME des GARÇONS Autumn Winter 1988-89 collection…
A red flannel pleated skirt with crochet lace embellishment and self-fabric belt.
I love that folklore inspired collection! There were many more ideas that I didn't get around to try out.
From the next collection – COMME des GARÇONS Spring Summer 1989 – there were at least two more…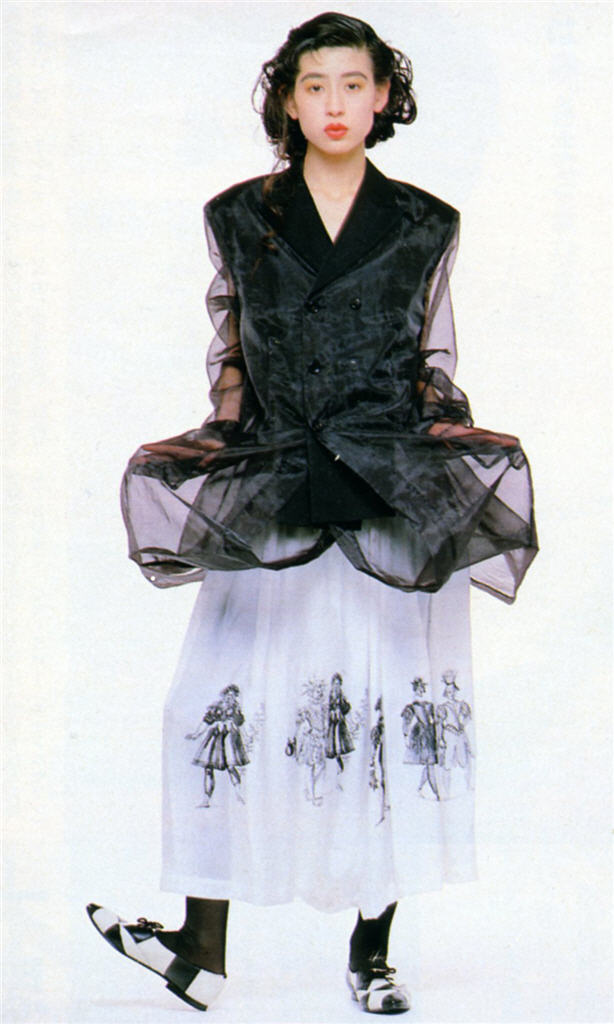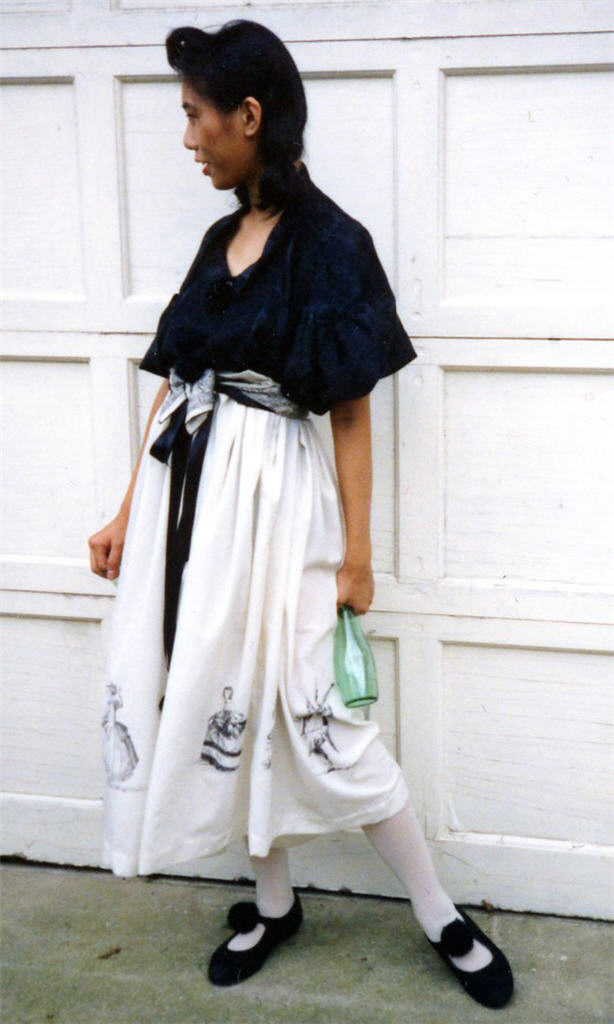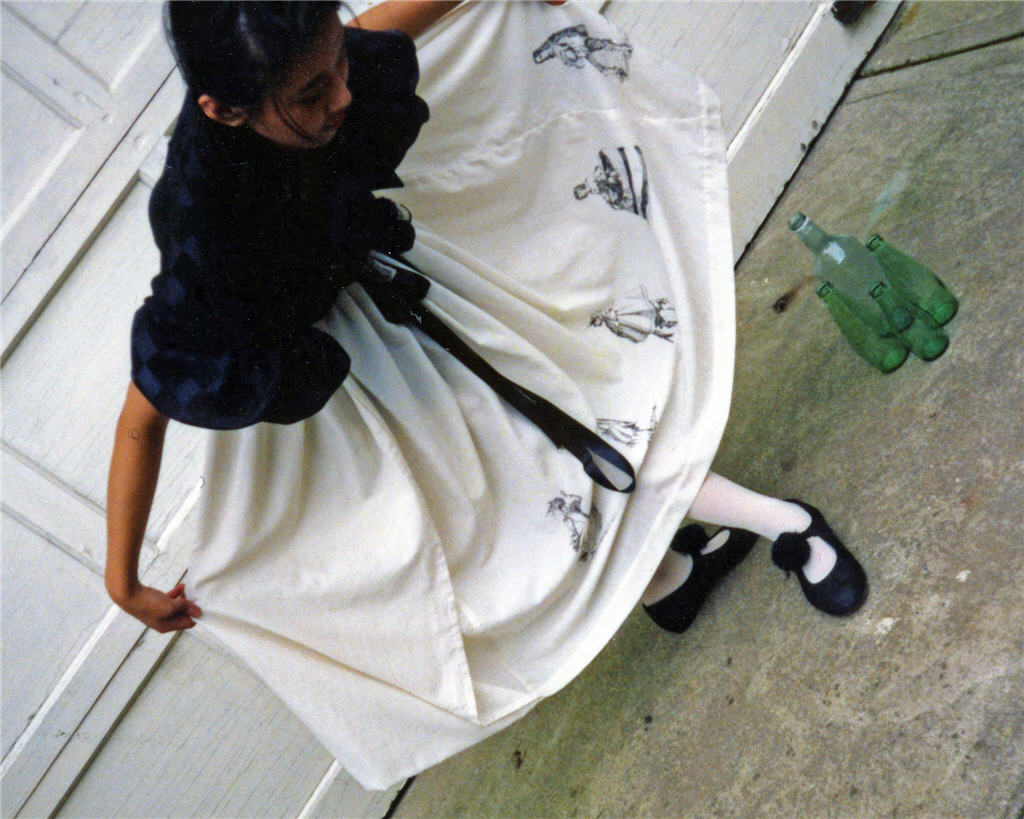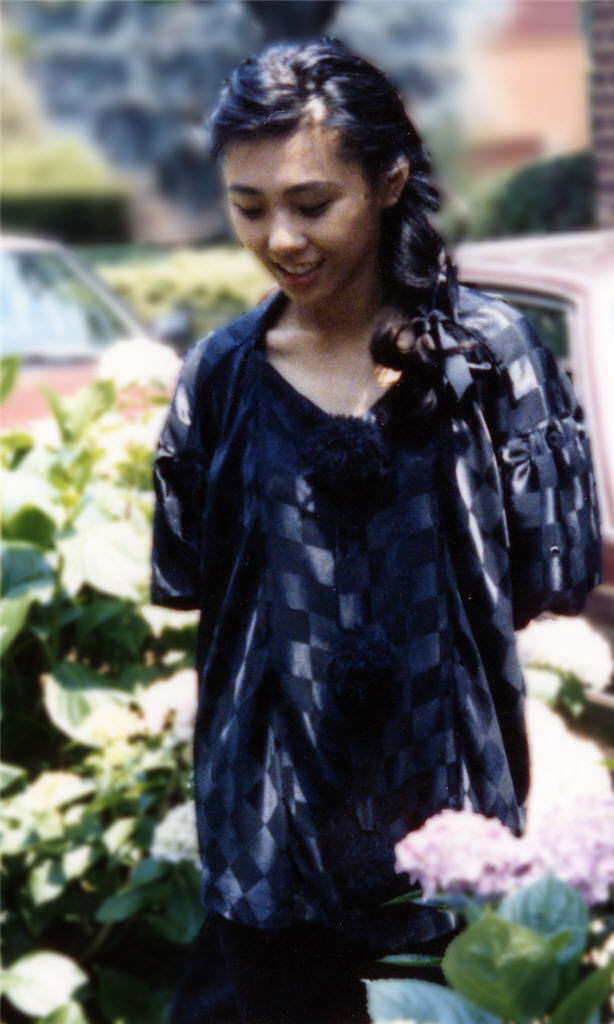 A gathered skirt with one panel folded back up at the hem and hand drawn Renaissance style Pierrot characters.
The blouse pattern was rather interesting. The sleeves were cut as one with the bodice, not separate pieces. They were like bat-wings extending up beyond the shoulder seam. Halfway up the armholes they separate from the upper armhole of the bodice, then were gathered and reattached to the upper armhole. You know those Japanese designers, they like their origami! And yes, those are pom-pom faux buttons.
Sometimes I'd take the liberty to "improve" on the original. Like with this Marc Jacobs dress. I made my version reversible.
Bring On Them Tailoring Challenges!!!
I also wasn't afraid to tackle tailoring. Here's my first Vogue suits – Vogue Pattern 9199…
The result is a bit conservative for me at the time, so I didn't wear it much and have no idea what happened to it.
But then under the lens of the right photographer – my university friend in this case – even a plain old suits can look fashionable!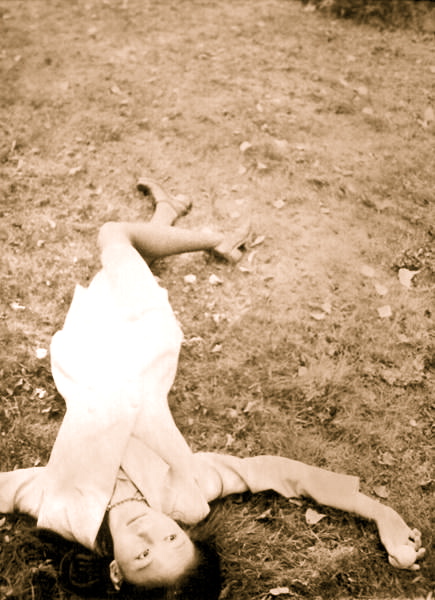 That suits though didn't make use of proper tailoring. But this Vogue Pattern 1224 one did…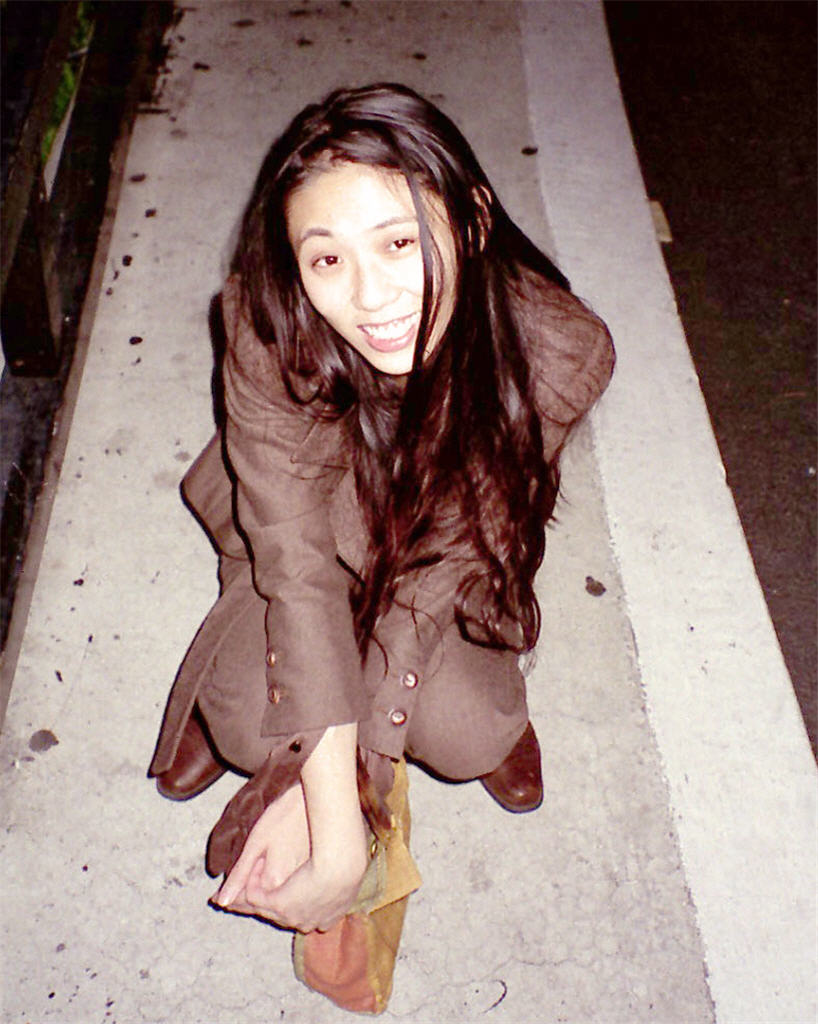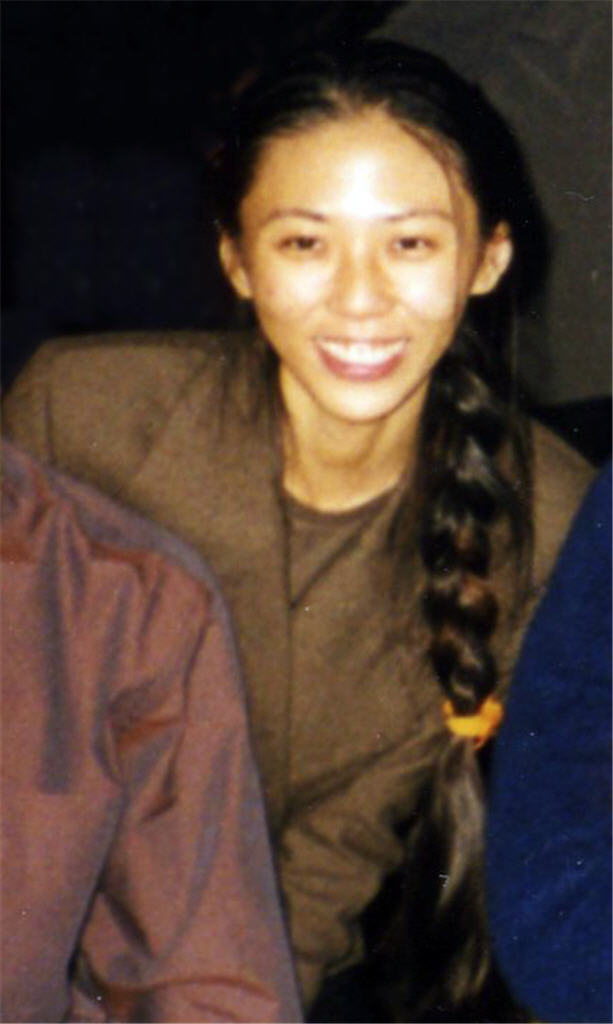 Apology about the lack of mug shots. I guess I used to take sewing for granted so didn't think to document my projects. Anyway, this one had the pad stitching, the hair canvas, the roll line tape  and everything.
Jolly Old Midlife Crisis!?!?!
So what happened? Well this for example: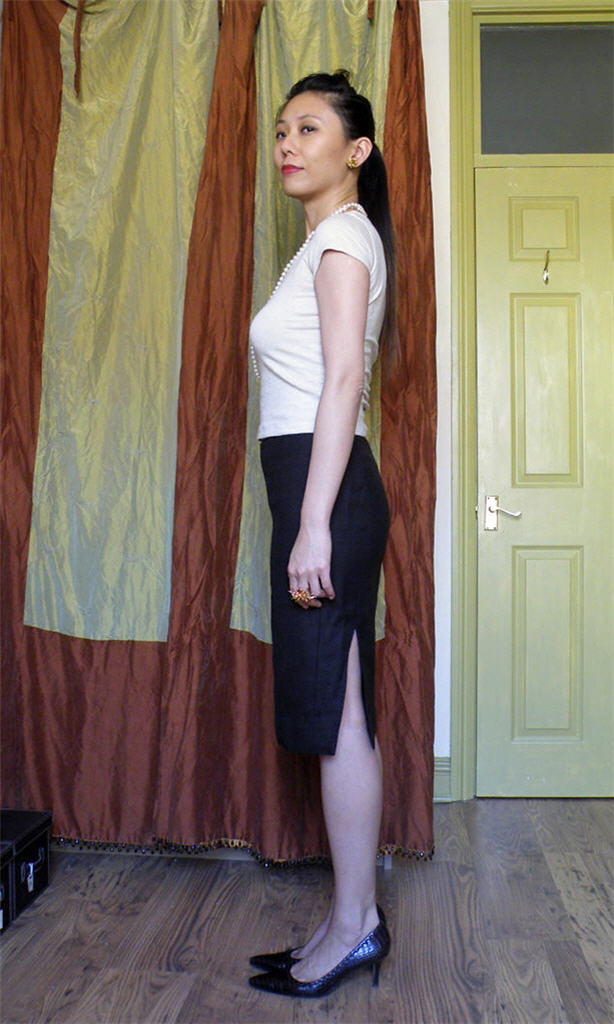 Note all the drag lines. Fitting has never been my forte. Nor was picking the right proportion and silhouette. The V1224 suit above for example had wide lapels and extended shoulder that doesn't really flatter my short-waisted figure. I also didn't think to lower the waist band slightly to create the illusion of a longer torso. I mean a waist goes where your waist naturally is or where the pattern designer intended it to go, right? So naive I was. I simply took instruction and the pattern at face value. I didn't think to customize it to suit my own figure quarks.
The other thing that happened was aging. Although I wasn't great at fitting, stuff I made before didn't look too bad. The T-Shirt above is actually a recent make. Shock Horror – my figure has changed. And in exactly the ways described in Fit For Real People! The rounded upper back, forward shoulder, fuller bust front and narrower back, fuller tummy, sway back and droopy behinds. You name it, I got it. Makes fitting so much more difficult.
Hence my current obsession with making slopers instead of lovely clothing from the Big 4 patterns  and Burda magazines I've collected.
What about you? Have you grown wiser with age and sewing experience? Have you ever hit a sewing midlife crisis like me & got over it? Please, please tell me there's light at the end of the tunnel! 😉