Being formerly American, I'm fairly new to the world of Burda Style magazines. Most of my past pattern purchases have been Vogue Patterns. But since I started lurking on other sewists' blogs a year ago, I started buying the odd issues. I did consider subscribing, but (A) it's not any cheaper, and (B) our love affair has not been true and constant. Towards the end of last year there were a few months of love-ups. But recently it's been mostly blah disappointments.
That's until the current issue. I saw this picture in the July 2012 issue and I just had to get it:
"But it's just a simple square top!" I hear you protest. Well yes. I didn't exactly buy this issue for the patterns. I bought it for the image of this scarf fabric. Because it reminds me of another Restyled Ready-To-Wear in my closet…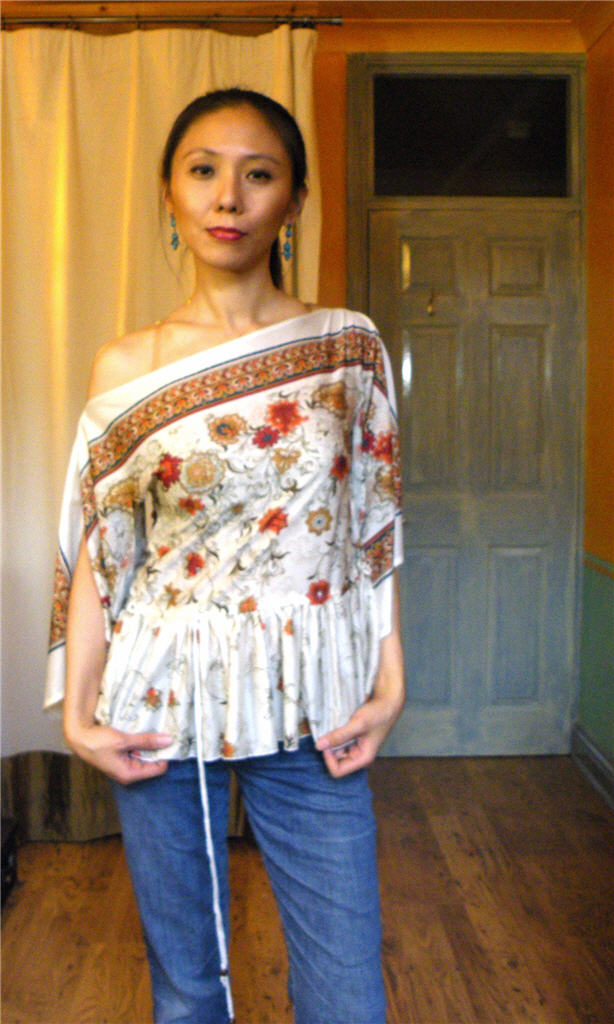 Like my newly decorated sewing room, the colors and pattern make me happy.
It's from Top Shop, a second-hand top I think. There was only one on the rack and it's made from this 70ish plasticky polyester. I wish the fabric were smooth drapy silk, for the original design might have worked better. As it was, I had to restyled it to avoid looking puffy. Here's the Before & After diagrams (click on the images to enlarge and see the details):
The alterations:
To create a slimmer silhouette I cut apart the sleeves from the bodice along the original stitching lines. Sewed the front & back side seams I just created about 2/3 way up. Hemmed the remaining part of the slits to create Japanese style kimono sleeves. (See close-up photo below.)
To further slim it down I replaced the elastic gathering at the waist with loops at the waist side seams that pull the extra fullness towards a couple of buttons on the back. (See enlarged After diagram above.)
For a bit of Greco-Roman flair – and that all important extra wearing option – I opened up the shoulder / sleeve top seams part-way to create slits. (See top two photos below.)
Lastly a decorative waist tie thrown in for good measure. A couple of venetian beads weigh these fabric tubes down.
Et Voilà…
I like it too with a couple of shawls for a remotely English Civil War inspired look. In my rather irreverent muddled head anyway.
And back to Burda Style 7/2012…
I'm hoping to track down scarfs like the one used in that series of patterns. Sadly Roeckl, which supplied the ones used in the magazine, doesn't seem to have that exact pattern anymore.
Anyone has suggestions for where to look?