Plan B has veered off course as well. I'm feeling very run down and stressed out at work. So I've given myself permission to take the tortoise route to the Draft Along.
In the meanwhile, to keep you entertained, may I present…
my Karma Gingham Dress?
Karma because it keeps on coming back. I'm on version 3 now. Version 1 was about 2 decades ago. (I can't believe I'm that old now!) I think I'll probably still be remaking and revising this pattern until I'm pruny.
Today I'll just showcase the dress, version 1 & 3. (I have no photos of version 2. It was during my Lost Years.) Please indulge me my pony show: If I keep on making this same dress, you know it must be LOVE…Then again, it can simply be Bad Fitting Skill karma.
Here's the inspiration:
Another photo from NY Times Sunday fashion magazine
from long long time ago, in a land far far away.
Update: I stand corrected. It was actually a Frency magazine. Might have been Maire Claire bis. And probably S/S 87 or 88. The original dress is by Michel Klein.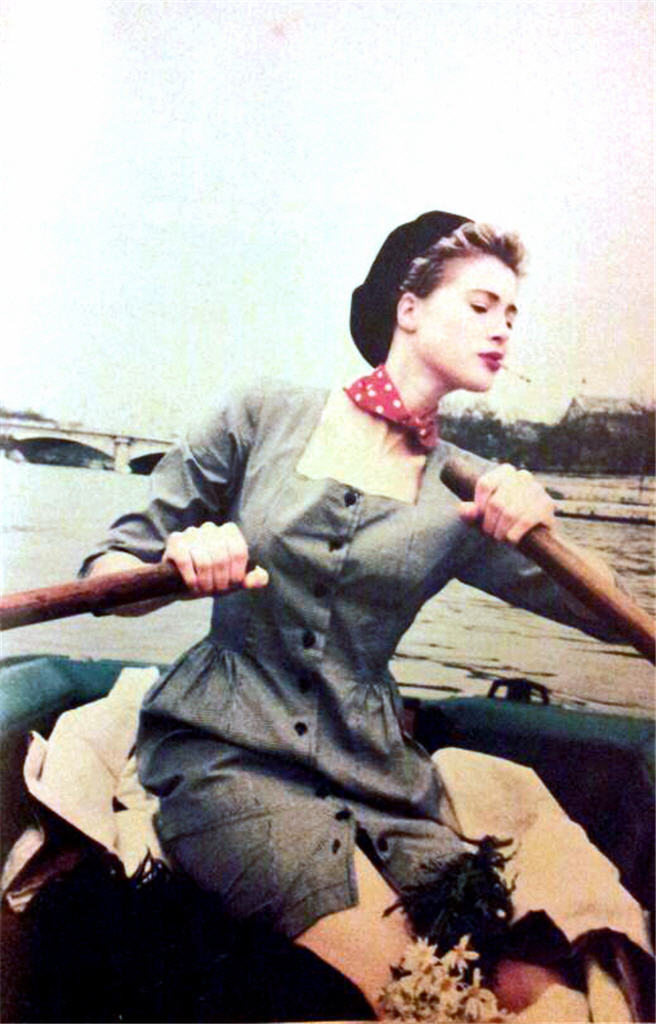 Iconic isn't it?
Version 1…
This must have been early 90's. Youth and a pattern size 8 made it easier to carry off the shorter bodice and shorter hem without looking too street-walkerish.
About 13 years later, I attempted v2 with the same pattern, but in purple gingham. Maybe it's the color, maybe it's my body going south, something just wasn't right. I felt stocky and exposed wearing v2.
So when it came to v3 I made some changes to the pattern and went back to good old B&W.
Version 3…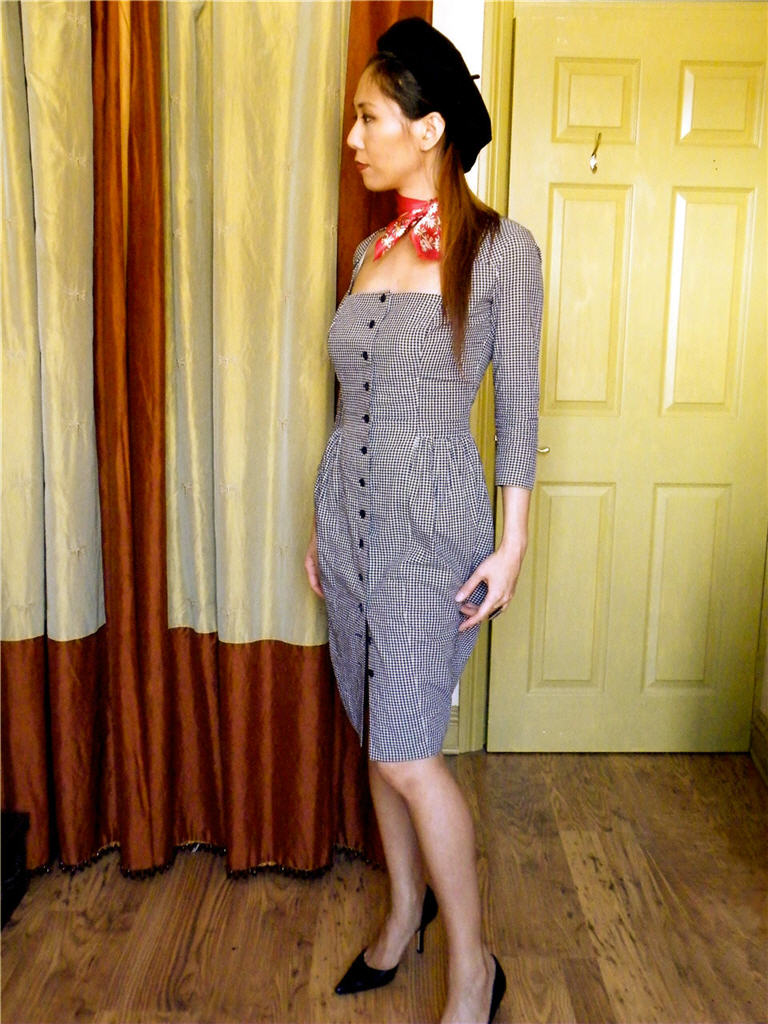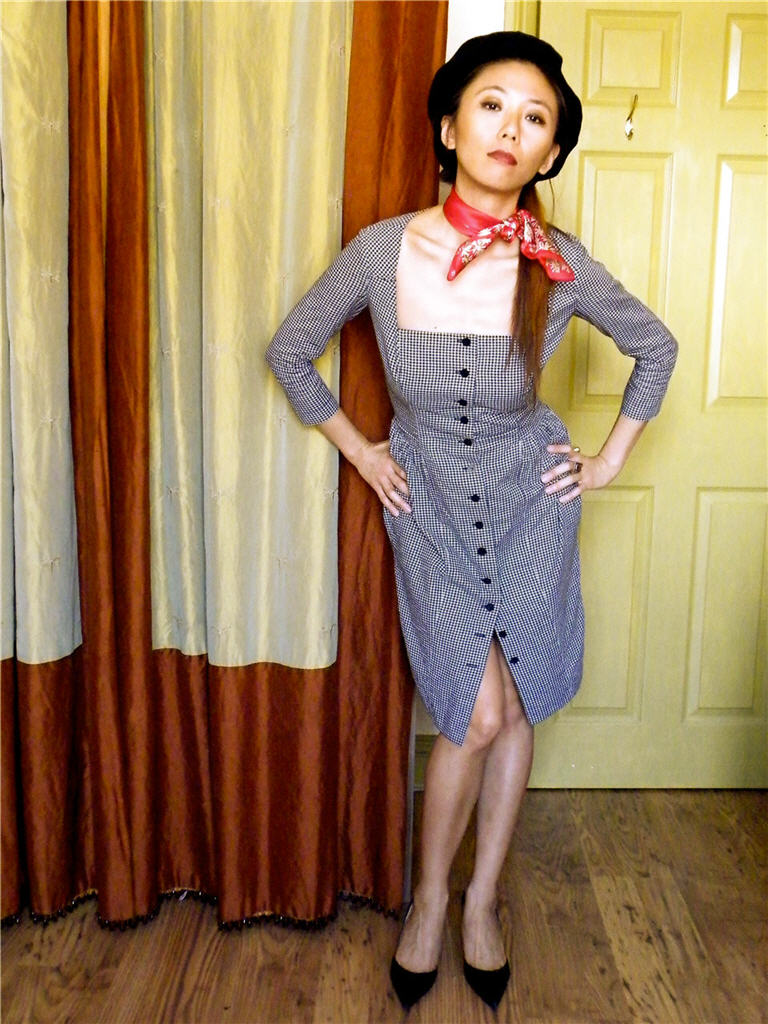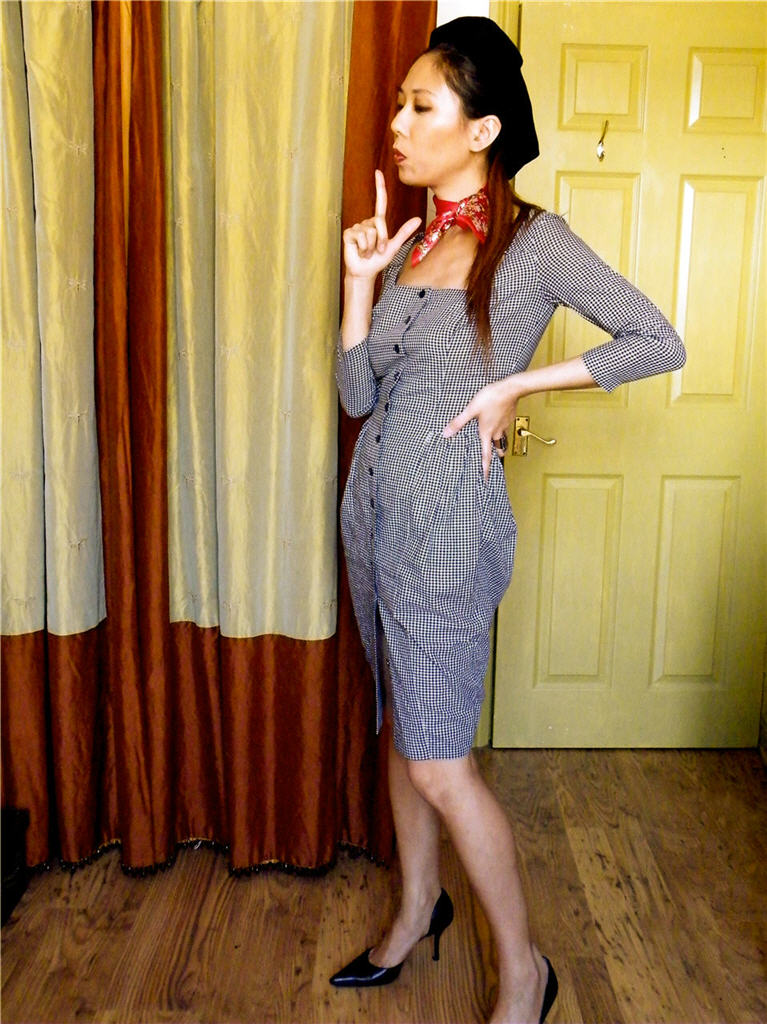 It's as close as I'm going to get to the original inspiration without turning caucasian and taking up smoking and boat rowing. OK, maybe it's more Bonnie & Clyde than Parisian Chic.
Anyway, I'm generally happy with the modified silhouette. The lowered waistline I think makes the waist look less thick. There isn't a horizontal line  stretching the waist width-wise, which would have been further aggravated by puffy gathering. Instead this width emphasis is shifted down to my anemic hip, giving me more of a hour-glass shape than I normally have. The lowered hem also help lengthens the silhouette. Overall, more lady-like and befitting a woman of my age.
The Mug Shots
The fit still needs a bit of tweaking. Especially the back skirt silhouette. It makes my bum look droopy (which I'm sure it is, but there's no need to shout about it).
It was even more twee originally when I had the skirt seams running straight from hip downward. It was bell-shaped and not slimming, I'll tell you that. I tried narrowing the skirt below the bum. It now looks alright from the front. But the back is obviously still not  right. And now it's also strangely constricting when I sit down despite the extra ease of the gathering.
So you can be sure there will be Karma Gingham Dress: The Next Generation. And when I finally get the fit right, I'll be in Nirvana. That is if my shape doesn't change so much that no amount of fitting will make the dress flattering anymore.
Stayed tuned for next installment: The Innards & The Oops.
I might even try to throw in some simple instructions on how you can draft your own version, that is if you already have a sloper and aren't afraid of pencil, rulers, scissors, and a bit of cellotape.
Maybe one day I'll figure out how to draft pattern on the computer and create downloadable patterns to save you the pattern-drafting hassle!